Let me introduce you to the 4-legged members of the family. Each is in exceptional health, has not been over-vaccinated, and is being fed a healthy home-prepared diet.


Our Frenchies
~Kabota ~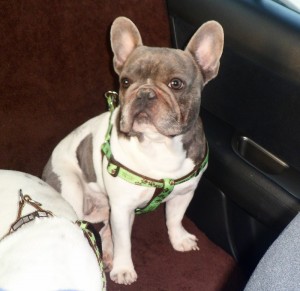 My husband and I have always loved the Frenchies and have wanted to raise them for a long time.  When a friend of mine was looking for a family for her breeding pair of French Bulldogs, we could not resist bringing Kubota and Holly home.
       We've taken 10 years of experience in raising exceptional Boston terriers and put that into our Frenchies.
       AKC Kabota is a fun-loving, stocky, 20 pounds of white and brindle blue pied Frenchie fun with a great international champion bloodline.  He's a very busy and funny little guy with plenty of spunk and a quirky nature.  He loves to follow me around the house, bark at the broom, go for rides in the car, and make sure his 'reflection' is kept at bay.  (If he sees himself in the shiny door kick-plate or glass oven door, he must go bark at his 'twin' intruder.)
~~~~~~~~~~~~~~~~~~~~~~~~~~~~~~~~~
~Peaches~
       AKC Peaches, our gorgeous fawn Frenchie girl, weighs about 20 pounds and has the classic French bulldog personality. She has a great measure of the comical nature along with the sweet affectionate nature for which so many Frenchies are known. She loves to hang out with me during the day when she is not keeping the other Frenchies in line.
       She does get along with the other dogs and all of the kids, even though she didn't get along with her twin sister who we had for a little over a year. She especially loves our 2 year old grand daughter and loves to squat down real low for her to hug and pet her.   I love her beautiful golden color, her great classic Frenchie looks, and her wonderful personality.
~~~~~~~~~~~~~~~~~~~~~~~~~~~~~~~~~
   ~Holly~
      Weighing in at 21 pounds, AKC Holly is a beautiful white and brindle blue pied with an exceptionally sweet teddy-bear personality.  She is very laid back and easy going.  She is generally obedient and loves each member of the family equally. Her mission is to get several belly rubs and ear rubs each day and to make sure that we are all aware of how much she cares about us!  Such a snuggle bug.  She also like to ride in the car but prefers to sleep during long rides….a woman after my own heart.
       Both Kubota and Holly love to come to us for attention, He for an encouraging pat on the head, and she for a hug or a good ear rubbing. 
      The combination of fantastic temperaments, great conformation, and amazing coloring has made Holly and Kubota's babies beautiful and graced with excellent personalities.  We have enjoyed our adorable little Frenchie babies with all of their irresistible cuteness and hilarious antics.
       Our puppies are raised for super health,
excellent longevity,
great conformation, and exceptional personalities.  Even though we raise our puppies with show potential in mind (blue Frenchies can't be shown), their adoption fee is for adoption as AKC companion pets.  Breeding/Show rights, for an additional fee, may be available for a qualifying puppy to an approved family.